Services for cosmetic industries
With over 25 years' experience in the cosmetic industry, Cosmacon can support and guide your company through product development and testing at any product life-cycle stage.
As a team, we can take your idea from the drawing board to a successful product launch or even re-launch.
We can help you create new or enhanced products for your customers and a new revenue streams for your business. These are our services or contact us directly for any questions.
Formulation
The formulation is the heart of your product.
A clever choice of raw materials and active ingredients will dictate whether a product succeeds or not. Straight forward production processes and exceptional stability should be a matter of course in product design.</p><p>Whatever the challenge you are facing with your formulation – we will find a clever and profitable solution.
Training
Are you looking for training for your staff?
Training based on daily practice and with measureable results. Cosmacon is the partner for you! We have developed training concepts based on the needs and goals of companies operating in the cosmetic industry. We use our experience and hands-on guidance to train and coach your teams. They will improve in effectiveness and performance by applying their new knowledge and understanding in their daily work. Together we can optimise working methods and practices to help you to be more efficient in your own laboratory.
Patents
"Can that really still be patented?"
When we talk to our customers about patents, these are just some of the reactions we hear. Patents are the quantitative proof of your company´s power of innovation. Sadly, although patents are directly linked to success, many companies struggle with the whole process and fail to maximise their potential. Now you can change that. With the experience of over 350 patent registrations behind us, we can guide you through the whole process and help you to successfully identify and register new patents for your products.
Raw Materials
It is rare that the full potential of raw materials or active ingredients has been fully exhausted.pft.
It is commercially convenient to position a new ingredient using its most obvious benefits, but experience has shown that the full potential may not yet have been exploited and the ingredient may be being undersold. Take an established substance; give it a new lease of life – innovation and new markets could be just a contact away.
Cosmetic Business 2023 will once again take place in the Bavarian capital of Munich on 14 and 15 June 2023. The international b2b cosmetics trade fair brings cosmetics companies together with suppliers from all areas: from development, manufacturing and certification ...
Read more

→
Honey (INCI name = Mel) is the bee product that comes to mind ad hoc when we talk about bees. Bee honey is beloved as a food as well as a stimulant. It is one of the few luxury foods ...
Read more

→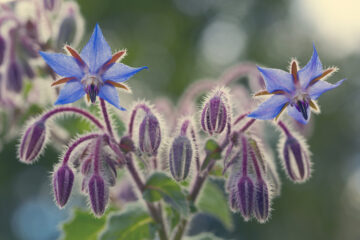 Borage is an annual plant of the Boraginaceae family, also known colloquially as cucumber herb. It originated in the Mediterranean region, but is now also cultivated in Western Asia, the United States and the warmer regions of Europe. Borage seed ...
Read more

→