Training, Coaching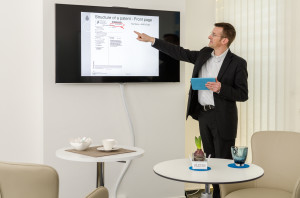 Seminars and text books covering cosmetic formulations are often out of date and not based on current formulation development technology or bearing in mind modern commercial pressure. There are many challenges when implementing innovative ideas in the cosmetic industry:
Choice of materials
Value for money and flexibility in formulations
Long-term stability
Interactions with packaging
Scaling up processes
Declaration
Basic compliance with legal requirements
Effectiveness of product
Scent experience / stability
And many more…
Using in-house training, tailored to your company´s aims and formulation concepts, The Cosmacon scientists will work closely with you and your team. They will coach your team members in all aspects of modern theory and the latest practices. We believe strongly that the understanding and retention of the theory behind processes can be best supported with practical experiments and examples in your own laboratory using your company´s facilities.
To avoid disturbing development work, training can also be done during the weekend.
Contact us for more details on tailor-made coaching and training opportunities.