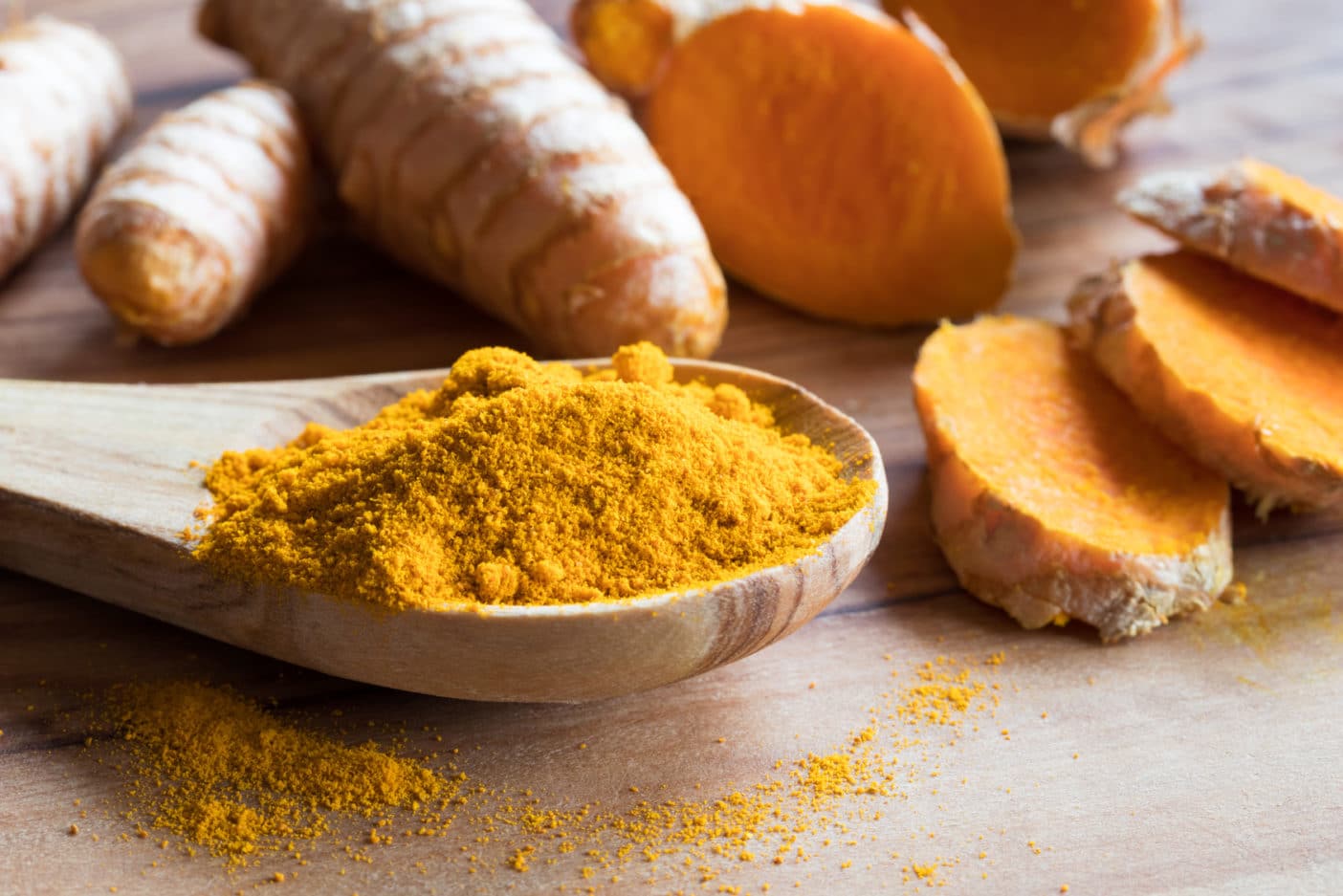 Turmeric belongs to the ginger family, Zingiberaceae. The spice plant has its origin in South Asia. Today it is cultivated mainly in the South American tropics, China, Indonesia, and the Indian subcontinent.  It is also known as curcuma or Indian saffron. Turmeric or turmeric  extract has plaid a key role in the traditional Chinese medicine (TCM) and Ayurveda medicine for 5000 years. The herbaceous plant with the unique rhizomes indeed is one of the oldest medicinal plants. In Europe, turmeric for centuries has been used primarily as a cooking spice. The spice was and is contained in almost every curry powder. Its medicinal effects have become the object of scientific research in the Western world only over the last few years.
Exclusively the rhizome is used to produce the turmeric extract. Usually it is air-dried for some days and then ground in a mortar.
The components of turmeric extract and its effects
The main component is curcumin, a substance also used as a food additive. In food production, curcuma is used as a (yellow) colorant and flavor. The medicinal effects of curcumin are even more interesting and important. It alleviates pain and reduces inflammation. It helps to eliminate heavy metals from the organism and is said to prevent cancer. Studies prove that the anti-inflammatory effect of curcumin is equal to the effect of many medicines. Compared to usual medicines, curcumin has no harmful side-effects. Its antioxidative activity has been used successfully already for some time to control arthritis and degenerative joint diseases.
Curcumin is only one of four different curcuminoids contained in the plant. The other three substances are cyclocurcumin, bisdemethoxycurcumin and demethoxycurcumin. To simplify the facts the mixture of these four substances is called curcumin.
Curcuma contains vitamin B6. In combination with folic acid and vitamin B12 it prevents an excessive increase of the homocysteine level in the body which would damage the vascular walls in the long term. A high homocysteine level is a medical risk factor for dangerous atherosclerotic plaques that promote heart diseases.
A rather new study proves that turmeric extract is a powerful shield against Alzheimer disease.
The German, Austrian and American societies of oncology now recommend turmeric extract as an adjuvant measure in cancer therapy. Curcumin is able to prevent vulnerable cells from mutating into cancer cells, to inhibit the formation and spread of metastases, to increase the permeability of the membranes of cancer cells to enhance the effectiveness of radiation therapy, and to decrease to development of blood vessels in tumors.
Curcuma is almost free of cholesterol and is rich in magnesium. It has a high content of calcium: up to 180 milligrams per 100 grams.
Its antimicrobial essential oils (5.0 to 7.0 percent) fight microorganisms.
In total, curcuma contains nearly 90 components; polysaccharides, ferulic acid, caffeic acid, manganese, phosphorous, chrome and resin are some that add to those already mentioned.
Turmeric extract in cosmetics
Curcuma means wellness for skin, hair and nails. The multitudes of precious ingredients promote skin circulation and have decongestant and antibacterial effects.  Thanks to the high percentage of natural antioxidants, turmeric extract helps to protect against premature skin aging and wrinkles.
Problem skin prone to inflammations or extreme sensitivity reactions will profit from skin care with curcuma. It is helpful also for skin conditions of eczema or skin fungi.
In hair care products, curcuma helps to increase volume, density and beauty with regular use.  Moreover, it has excellent performance in anti-dandruff products.
Curcuma is a rich biological source of trace elements, such as copper and zinc, biotin and essential B vitamins. All these nutrients are important to build collagen and connective tissue and support healthy nails and cuticles.
Turmeric extract is even reported to work as a natural bleaching for teeth.
Not to forget the inhibiting effect of curcumin on the spread of herpes viruses. By stopping a co-activator protein (p300) it prevents any virus growth. The antiviral effect of curcumin can be used for lip herpes as well as for genital herpes. The ideal form of application is an ointment preparation.
Turmeric extract is easy to integrate into various cosmetic formulas. Whether in masks for skin impurities, anti-aging products or in shampoos, curcuma is suitable for many application forms.
Its image is completed by its high performance as an antioxidant and defence against free radicals that damage cell structures.
Portrait: Turmeric extract
Alternative terms: Indian saffron, Indian curcuma, Yellow ginger
INCI: Curcuma Longa (Turmeric) Root Extract
Properties: antioxidative, anti-inflammatory, cancer preventive
Definition: yellow powder
Main components: curcuminoids (3.0 to 5.0 percent), essential oils, vitamin B6, vitamin B12, zinc, copper, magnesium, ferulic acid, caffeic acid
We are enthusiastic about applying these turmeric active agents.
| Handelsname | INCI | Hersteller | Bemerkung |
| --- | --- | --- | --- |
| Curcuma Longa CO2-TO Extract (organic) | Curcuma Longa (Turmeric) Root Extract | Flavex Naturextrakte GmbH | |
| Turmeric Oil (CO2) | Curcuma Longa (Turmeric) Root Extract | Gfn-Selco | |
| TEGO Turmerone | Curcuma Longa (Turmeric) Root Extract | Evonik Nutrition & Care GmbH, BL Personal Care | |
| ACTIPHYTE turmeric | Glycerin (and) Water (and) Curcuma Longa (Turmeric) Root Extract (and) Phenoxyethanol | Lipotec S.A.U. | |
| Planoxia-CL-SCF | Curcuma Longa (Turmeric) Root Oil | Radiant Inc. | |
| Melscreen Gold EX AV | Water (and) Glycerin (and) Curcuma Longa (Turmeric) Root Extract (and) Crocus Sativus Flower Extract | Chemyunion | |
| Salinatural TCLS | Curcuma Longa (Turmeric) Root Oil (and) Eugenia Caryophyllus (Clove) Flower Oil (and) Cymbopogon Schoenanthus Oil (and) Sesamum Indicum (Sesame) Seed Oil | Salicylates and Chemicals | |
Turmeric extract for superior formulations
Turmeric extract is a really natural shield against premature skin aging, skin impurities, fragile nails, brittle hair and many other problems.
We at Cosmacon know how to use the precious substance in best formulations. We develop the personalized solutions perfectly matching your demands.
Please contact us with your questions. We are eager to provide you with our professional advice!
If you want more information regarding turmeric extract, please visit website of our partner: lyfebotanicals.