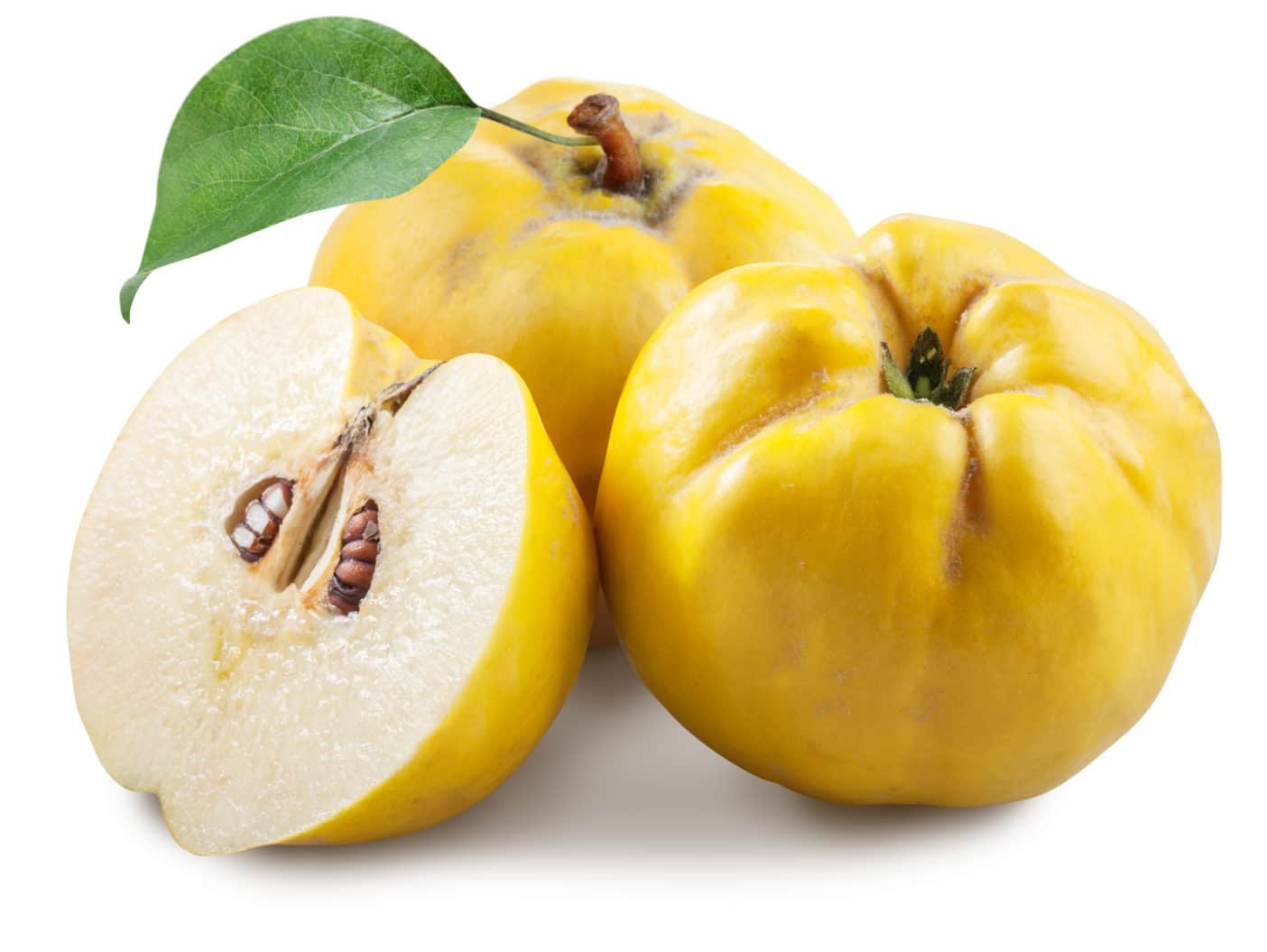 The quince originally is from West Asia. Today, it is cultivated also in Europe, although, unfortunately, it is of minor importance to us.  The sorts grown in our regions are not suited for raw consumption; the fruits are very hard and rather bitter due to the tannin content. The ancient Greek knew that and used to preserve them in honey. They called the purée "melimelon". The Portuguese transformed the word to "marmelo" which is the root of"marmalade".
The pomiferous tree of the family of rosaceae blossoms in May and June. Later on it develops magnificently fragrant yellow-golden fruits which look like hybrids of apples and pears. The harvest time is from September to October. The seeds of the fruits deliver the precious quince extract.
The quince and its ingredients
100 grams of quince have only 40 calories. The quince consists of nearly 80 percent water. It is rich in vitamin C: 100 grams of the fruit meet 15 percent of the daily requirement (recommended for adults). The quince extract contains many essential mucilaginous substances, amounting to 20 percent, for example the pentosans, composed of the pentoses arabinose and xylose. They have water-binding capacity and cannot be digested by the body: they are dietary fibers.
The quince contains amygdalin (ca. 1,5 percent), a cyanogenic glycoside increasingly used in alternative medicine as a preventive and treatment of (cancer) tumors. The therapeutic effectiveness has not yet been proved unequivocally by scientific research.
Warning: Amygdalin, under certain conditions, can eliminate the dangerous hydrocyanic acid, as well as bitter almonds and apricot kernels. When experimenting with quinces in your own kitchen, you should by no means use damaged seeds because they have an increased risk of releasing hydrocyanic acid.  Of course, quince extract supplied as an ingredient for cosmetics or medicated preparations is absolutely safe.
In addition to vitamin C, the quince contains other antioxidants. For instance, it is rich in flavonoids, mainly quercetin, scientists call the "king of flavonoids". Quercetin has been proved to help to inhibit the growth of the bacterium helicobacter pylori. Helicobacter pylori is regarded as the cause of stomach and duodenum ulcers, gastritis, and even stomach cancer. In addition, quercetin has positive medical effects on cardiovascular diseases and gout.
The tannins in the quince extract, responsible for the bitter taste of the raw fruits, probably are helpful against arteriosclerosis. As astringents they are useful in styptics.
The effects of quince extract
An overview study of the renowned University of Sargodha in Pakistan confirmed the following effects:
Antibacterial, antiviral, antioxidant, cholesterol-lowering, diuretic, cough-relieving, anti-inflammatory, anti-diarrhoea, liver-protective.
They offer the base for several medical uses. Quince extract can be used as a preventive or an adjuvant for the treatment of infections of the respiratory tracts and urinary tracts, gastrointestinal diseases, allergies, hepatitis, abscesses, wounds, diabetes, influenza, and cancer (not conclusively proved). It soothes slight inflammations in the oral and pharynx areas. Quince extract also alleviates bedsores and haemorrhoids.
Nasal sprays with quince extract could be recommended for pollen allergies. According to laboratory tests, quince extract could reduce histamine release.
Quince extract in cosmetics
With regard to the valuable components and positive properties, it is not surprising that quince extract contributes its multitude of advantages to cosmetics.
Skincare products with the extract of the mucilage-rich quince have anti-inflammatory and anti-irritant effects and therefore are ideal to accelerate wound healing. Quince extract repairs stressed or chapped skin, skin inflammations and skin damages induced by excessive sun exposure. Its main effects are calming and smoothing. It strengthens the skin barrier to reduce or even to prevent moisture loss. It is a possible ingredient in face masks and beauty lotions, comforting creams and gels. Lip balms profit from it to smooth chapped lips. Sore nipples, e.g. due to breast feeding, benefit from it.
Portrait: Quince seed extract
INCI: Pyrus Cydonia Seed Extract
CAS number: 90106-03-9
EINECS/ELINCS number: 290-223-1
Properties: skin-caring, anti-inflammatory, antibacterial, anti-irritant
Portrait: Quince leaf extract
INCI: Cydonia Oblonga Leaf Extract
CAS number: 85117-13-1
EINECS/ELINCS number: 285-564-8
Use: In folk medicine, the infusion of quince leaves traditionally is used for hipbaths or steam baths for uterine prolapse.
We like to work with these quince-containing raw substances:
| Handelsname | INCI | Hersteller | Bemerkung |
| --- | --- | --- | --- |
| MATILOOK | Glycerin (and) Aqua (and) Cydonia Oblonga Leaf Extract (and) Citric Acid | Solabia Group | |
Quince extract in cosmetics
While the quince as an edible fruit has lost importance, in cosmetics it is becoming a rising star due to its many positive qualities. Skin prone to inflammations, stress reactions or cracks will profit from the comforting power of the seeds.
Cosmacon develops superior formulations with quince extract matching your demands.