Surfactants, Emulsifiers
Surfactants are raw materials that support the surface tension between two normally not mixable substances, so that a long-term stable emulsion can be produced (with anionic surfactants, non-ionic surfactants, cationic surfactants, food emulsifiers, natural emulsifiers or polymeric emulsifiers).
These raw materials are also known as emulsifiers or solubilising agents.
Emulsifiers are the substances that play the most significant part in determining the stability and primary sensory feel of a cosmetic preparation. The secondary sensory feel is determined by the lipids (emollients) which can hide the sometimes waxy, sticky feeling on the skin caused by the emulsifiers.
New emulsifiers are being launched each year, competing with substances that are already established in the market meaning producers and users alike need to be fully informed of their portfolios.
In a cosmetic formulation, emulsifiers have a key role:
They guarantee long-term stability
They improve the water-resistance of sun protection formulations
They act as a solvent for UV-filters, active ingredients, perfume oils and many more substances
The choice of emulsifiers/surfactants for the cosmetic developer is enormous. This means that it is very important to have the best data possible in order to choose the perfect emulsifier for the application concerned. Satisfactory long-term stability of a formulation can only be achieved by choosing the optimal emulsifier and co-emulsifier (emollient) and solubilising agent for your product. In order to facilitate choosing the right emulsifier, we offer several services:
Screening using emulsifying gels
% solubility of UV-filters, active ingredients, perfume oils etc.
360° evaluation including electrolyte tolerance, evaluation with lipids of various polarities, screening of UV-filter compatibility,shear sensitivity & optimal emulsifier/co-emulsifier relationship
Sensory profiling
Advantages of sensory profiling
A sensory profile enables the developer to have a targeted assessment of the sensory qualities of an emulsifier, and also to select from their emulsifier portfolio in an informed way.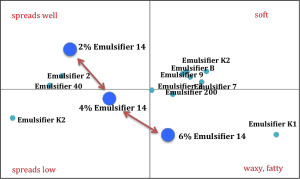 First the developer can see an overview of all emulsifiers, and select the right one for the development project in hand.
In addition, the developer has the information about the changes in skin-feeling when different concentrations are mixed in a formulation (see emulsifier 14).
Raw material suppliers will be able to identify quickly where there are gaps in their portfolio, and where the competitor emulsifiers sit in the matrix (indicated with a "K1" and "K2" in the diagram). Using this information new target emulsifiers can be acquired or developed to complete the portfolio.
Ideally this sensory map should be produced comparing several different attributes and/or in combination with several different co-emulsifiers.